PSMA-PET based radiotherapy: a review of initial experiences, survey on current practice and future perspectives
Radiation Oncology
2018
13:90
Received: 29 November 2017
Accepted: 8 May 2018
Published: 11 May 2018
Abstract
68Gallium prostate specific membrane antigen (PSMA) ligand positron emission tomography (PET) is an increasingly used imaging modality in prostate cancer, especially in cases of tumor recurrence after curative intended therapy. Owed to the novelty of the PSMA-targeting tracers, clinical evidence on the value of PSMA-PET is moderate but rapidly increasing. State of the art imaging is pivotal for radiotherapy treatment planning as it may affect dose prescription, target delineation and use of concomitant therapy.
This review summarizes the evidence on PSMA-PET imaging from a radiation oncologist's point of view. Additionally a short survey containing twelve examples of patients and 6 additional questions was performed in seven mayor academic centers with experience in PSMA ligand imaging and the findings are reported here.
Keywords
PSMA-PET
Prostate-cancer
Salvage radiotherapy
Primary radiotherapy
Image guided treatment planning
Review
Survey
Background
Positron emission tomography (PET) imaging with
68
Gallium-labeled prostate specific membrane antigen ligands (PSMA) for prostate cancer patients has entered clinical practice for staging prior to radiotherapeutic treatment, especially for high-risk tumors and patients suffering biochemical recurrence after surgery. As PET is usually performed in combination with computed tomography (CT) for attenuation correction and anatomical information, the term PSMA PET is subsequently used as an abbreviation for this combined examination, unless otherwise stated. PSMA-PET has a higher specificity and sensitivity for the detection of tumor lesions compared to stand alone CT, magnetic resonance imaging (MRI) and Choline-PET. It offers promising opportunities for treatment individualization [
1
,
2
]. PSMA-PET (CT/MRI) was introduced in 2012 [
3
–
5
]. Its clinical use and the scientific interest in PSMA-PET imaging increased almost exponentially as suggested by a Pubmed search using the terms PSMA PET (Fig.
1
). Due to the relative novelty of this radiotracer there is a steadily increasing clinical evidence for the implementation of PSMA PET for clinical decision making and radiotherapeutic target volume delineation. Despite sparse high-grade evidence, it was shown that PSMA-PET imaging had influence on radiotherapy treatment in more than 48% of high risk patients (treatment-naïve and recurrent prostate cancer) [
6
]. In two recent publications with 161 and 270 patients suffering biochemical recurrence Calais and colleagues reported intended treatment management changes in more than 50% of patients. In case of early biochemical recurrence (defined as PSA < 1.0 ng/ml) there was still a major impact of further treatment planning in 19% of patients [
7
,
8
].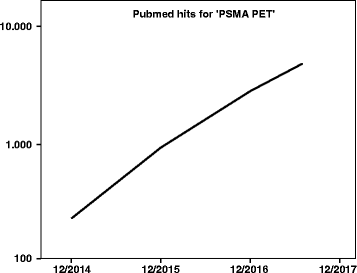 This review focuses on the use of PSMA-PET for radiotherapy planning and treatment, based on the clinically most widely used 68Gallium-labeled PSMA ligands. The probably most important issues regarding PSMA-PET for radiation oncologist are: When to use PSMA-PET imaging for treatment planning/ staging and how to optimally adapt radiotherapy planning to PSMA-PET findings. The limitations and caveats of 68Gallium-PSMA ligand and methods to improve imaging quality and detection rates by alternative acquisition protocols or PSMA conjugates are only briefly mentioned as they were already comprehensively discussed elsewhere [9–12].
Conclusion
PSMA-PET should be considered the actual gold standard for imaging of biochemical recurrent prostate cancer, outperforming conventional imaging and Choline-PET in regard to sensitivity and specificity for detection of lymph node and distant metastases. PSMA-PET imaging should be recommended for PSA values > 0.5 ng/ml after radical prostatectomy. For biochemical recurrence with PSA values < 0.5 ng/ml or treatment-naïve intermediate or high-risk patients there is no good evidence if and when to use PSMA-PET imaging for staging. Therefore, additional clinical risk factors and potential therapeutic consequences should be carefully considered for each patient. Current clinical guidelines like the German S3 guideline underline the importance of PSMA-PET imaging for recurrent prostate cancer, even as upfront diagnostic approach, while recommending its use in treatment-naïve prostate cancer patient staging within prospective trials only [47]. Initial studies with limited numbers of patients and short follow-up time showed promising biochemical responses in the majority of patients that were treated for PSMA-positive recurrent tumor lesions. However, it is impossible to know yet if this affects overall survival. By our short survey we identified the most critical radiation oncology issues: When to irradiate prostate fossa in case of loco-regional or distant PET findings and how extensive radiation fields should be in case of localized extrapelvic lymph node metastasis? Additionally, there is no published data on potential synergies of ADT and PSMA based external beam radiotherapy as well as PSMA based radioreceptor therapy. This should be further elucidated by pre-clinical models and prospective clinical trials.
Abbreviations
ADT:

Androgen deprivation therapy
CT:

Computed tomography
FDG:

18F-fluorodesoxyglucose
Gy:

Gray
iPSA:

Initial PSA value
ml:

milliliter
MRI:

Magnetic resonance imaging
ng:

Nanogram
PET:

Positron emission tomography
PSA:

Prostate specific antigen
PSMA:

Prostate specific membrane antigen
RT LD:

Radiotherapy to the pelvic lymphatic drainage
RT PA-LD:

Radiotherapy to the para-aortic lymph nodes
RT Prostate Fossa:

Radiotherapy to the prostate fossa
RTOG:

Radiation Therapy Oncology Group
SRT:

Stereotactic radiotherapy
SUVmax :

Maximal standardized uptake value
Declarations
Availability of data and materials
The dataset supporting the conclusions of this article is included within the article and is available from the corresponding author on reasonable request.
Authors' contributions
SZ drafted the manuscript, designed the figures and performed the analysis of the survey. PW and PG provided ideas and help with the manuscript. PW and PG provided ideas for the analysis. All authors contributed to the survey, read and approved the final manuscript.
Ethics approval and consent to participate
This review does not involve human participants.
Competing interests
The authors declare that they have no competing interests.
Publisher's Note
Springer Nature remains neutral with regard to jurisdictional claims in published maps and institutional affiliations.
Open AccessThis article is distributed under the terms of the Creative Commons Attribution 4.0 International License (http://creativecommons.org/licenses/by/4.0/), which permits unrestricted use, distribution, and reproduction in any medium, provided you give appropriate credit to the original author(s) and the source, provide a link to the Creative Commons license, and indicate if changes were made. The Creative Commons Public Domain Dedication waiver (http://creativecommons.org/publicdomain/zero/1.0/) applies to the data made available in this article, unless otherwise stated.
Authors' Affiliations
(1)
Department of Radiation Oncology, Klinik für Radioonkologie und Strahlentherapie, Charité Universitätsmedizin Berlin, Berlin, Germany
(2)
Department of Radiation Oncology, Faculty of Medicine and University Hospital Carl Gustav Carus, Technische Universität Dresden, Dresden, Germany
(3)
German Cancer Research Center (DKFZ), Heidelberg and German Cancer Consortium (DKTK), Dresden, Germany
(4)
Department of Radiation Oncology, Technical University of Munich (TUM), Munich, Germany
(5)
Institute of Innovative Radiotherapy (iRT), Department of Radiation Sciences (DRS), Helmholtz Zentrum München (HMGU), München, Germany
(6)
Department of Radiation Oncology, University Hospital Zurich, Zurich, Switzerland
(7)
Department of Radiation Oncology, Medical Center - University of Freiburg, Faculty of Medicine, University of Freiburg, Dresden, Germany
(8)
German Cancer Consortium (DKTK), Partner Site Freiburg, Dresden, Germany
(9)
Department of Radiation Oncology, University Hospital Heidelberg, Heidelberg, Germany
(10)
German cancer research center (DKFZ) and german consortium for translational cancer research (DKTK), Heidelberg, Germany
(11)
Department of Radiation Oncology, Ludwig-Maximilians-University, Munich, Germany
(12)
German Cancer Research Center (DKFZ), Heidelberg and German Cancer Consortium (DKTK) partner site Munich, Munich, Germany
(13)
Department of Therapeutic Radiology and Oncology, Innsbruck Medical University, Innsbruck, Austria
(14)
Department of of Radiology, Universitätsmedizin Berlin, Berlin, Germany
(15)
Nuclear Medicine Department, University Hospital Carl Gustav Carus, TU Dresden, Dresden, Germany
(16)
Department of Radiation Oncology, Inselspital, Bern University Hospital, University of Bern, München, Switzerland
(17)
Charité Universitätsmedizin Berlin, Klinik für Radioonkologie und Strahlentherapie, Berlin, Germany