Wound healing after radiation therapy: Review of the literature
Radiation Oncology
2012
7:162
Received: 18 June 2012
Accepted: 20 September 2012
Published: 24 September 2012
Abstract
Radiation therapy is an established modality in the treatment of head and neck cancer patients. Compromised wound healing in irradiated tissues is a common and challenging clinical problem. The pathophysiology and underlying cellular mechanisms including the complex interaction of cytokines and growth factors are still not understood completely. In this review, the current state of research regarding the pathomechanisms of compromised wound healing in irradiated tissues is presented. Current and possible future treatment strategies are critically reviewed.
Keywords
Wound healing
Radiation therapy
Introduction
Radiation is employed as neoadjuvant, primary and adjuvant therapy for head and neck cancer. Complications after radiation therapy occur in up to 60 percent of surgical patients. Clinical sequelae include skin atrophy, soft tissue fibrosis, desquamation, epithelial ulceration, fistula formation and major vessel rupture[
1
,
2
]. Impaired peri- and postoperative wound healing and the complications associated with it can be observed[
3
,
4
] frequently and may require extensive reconstructive efforts[
5
–
7
] (Figure
1
).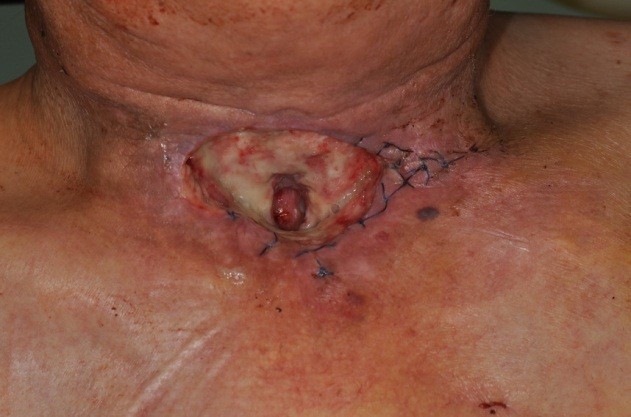 Physiological wound healing
Adequate wound healing involves interactions of cells. Cell biologic mechanisms relevant to the process include interaction of keratinocytes, fibroblasts and endothelial cells[
8
]. Epithelial closure of a wound is an important aspect of this complex biological process and relies primarily on the concerted action of activated keratinocytes and dermal fibroblasts[
9
]. Three phases of wound healing with distinctive biochemical profiles have been described (Figure
2
).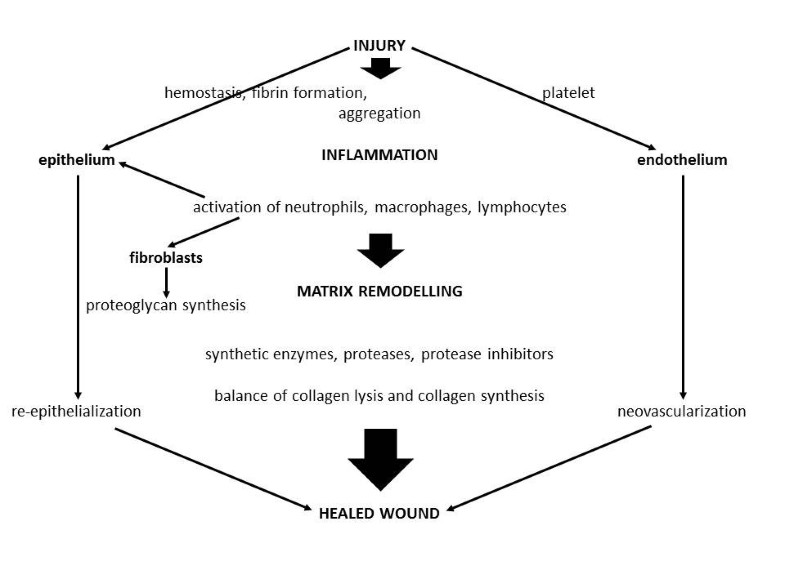 Hemostasis and inflammation (phase 1, day 0 to 4), are followed by proliferation (phase 2, day 3 to week 3) and maturation (phase 3, week 3 to 2 years)[10, 11]. These three phases are regulated by a complex network of interacting cytokines, growth factors and their cellular receptors.
Effects of radiation therapy on wound healing
Wound healing occurs in an ordered sequence of cellular interactions. Repetitive radiation injury disrupts this highly organized sequence of events, resulting in repetitive inflammatory responses and ongoing cellular regeneration[12].
There is an important distinction to be made between the early and the late side-effects of radiation therapy: Early side effects include erythema, dry desquamation, hyperpigmentation and hair loss[13]. Late effects include skin atrophy, dryness, telangiectasia, dyschromia, dyspigmentation, fibrosis, and ulcers[14].
The inflammatory and proliferative phases may be disrupted by the early effects of radiation. Affected factors during the inflammatory phase include transforming growth factor beta (TGFβ), vascular endothelial growth factor (VEGF), tumor necrosis factor-α (TNF-α), interferon-γ (IFN- γ) and proinflammatory cytokines such as interleukin-1 and interleukin-8[12]. These cytokines are overexpressed after the radiation injury leading to uncontrolled matrix accumulation and fibrosis[15].
The proliferative phase is characterized by granulation tissue formation, re-epitheliaziation and neovascularization. This phase is mainly regulated by TGFβ, VEGF, epidermal growth factor (EGF), fibroblast growth factor (FGF) and platelet-derived growth factor (PDGF)[12]. Nitric oxide (NO) promotes wound healing by an induction of collagen deposition[16]. NO levels have been reduced in irradiated wounds of experimental animals[17]. This finding may explain the impaired strength of irradiated wounds.
During the remodeling phase, matrix metalloproteinases (MMP) and their tissue inhibitors are central to the process[
18
,
19
]. MMP-1 is decreased after radiation therapy, which may contribute to inadequate soft tissue reconstitution[
19
] (Table
1
).
Table 1
Possible key factors affected by radiotherapy with respect to the phases of wound
| Phase of wound healing | Factors affected by radiation therapy |
| --- | --- |
| Inflammation | TGFβ, VEGF, interleukin-1, interleukin-8, TNFα, IFN-γ |
| Proliferation | TGFβ, VEGF, EGF, FGF, PDGF, NO |
| Remodelling | MMP-1, MMP-2, MMP-12, MMP-13, TIMP |
Keratinocytes represent a crucial cell type in the repair of late epithelial wounds and ulcers. Multiple molecular biological changes are observed in this cell after radiation when compared to radiation-naïve skin. In human radiogenic wounds, these cells show a shift in the expression from high molecular keratins 1 and 10 to the low molecular keratins 5 and 14. In non-healing ulcers, keratinocytes display a decreased expression of transforming growth factor-alpha and –beta(1), fibroblast growth factor 1 and 2, keratinocyte growth factor, vascular endothelial growth factor, and hepatocyte growth factor. Expression of the matrix metalloproteinases 2, 12 and 13 has been shown to be elevated in irradiated human keratinocytes and fibroblasts[20].
Fibroblasts play the central role in wound healing through deposition and remodeling of collagen fibers. In irradiated tissue, fibroblasts have been shown to generate a disorganized deposition of collagen bundles. One likely mechanism resulting in disorganized collagen deposition is dysregulation of MMP and TIMP. These enzymes regulate extracellular matrix synthesis[21, 22]. As TGF-beta in turn regulates MMPs and TIMPs, this cytokine may be of particular relevance to radiogenic ulcers.
Current strategies in treating irradiated wounds
Established strategies in treating radiogenic ulcers with delayed and inadequate healing include standard wound care, vacuum-assisted devices, substitution of nutritional deficiencies, and measures to optimize blood and oxygen supply[6, 23].
Hyperbaric oxygen seems to optimize the partial pressure of tissue oxygen. It is frequently used for the treatment of osteoradionecrosis[24–27]. The postulated effects include an increased capillary density and more complete neovascularization[28–33]. Kendall et al. tested hyperbaric oxygen in a cell culture model and found that its application resulted in the downregulation of 9 genes involved in adhesion, angiogenesis, inflammation and oxidative stress[34]. Interleukin-8 mRNA levels were also suppressed after daily exposure of hyperbaric oxygen to endothelial cells in this study[34]. IL-8 is one key factor in the inflammatory phase of wound healing. This suggests that the benefit of hyperbaric oxygen may not be limited to osteoradionecrosis and further investigations regarding additional therapeutic effects may be valuable.
Currently, hyperbaric oxygen therapy is clinically used in chronic diabetic ulcers and wound healing complications after radiotherapy. Its efficacy has been proven by several randomized trials, but it is it is important to emphasize that for both diabetic wounds and radiation injuries, this therapy is used in conjunction with standard wound care management techniques[35]. A possible new approach for the hyperbaric oxygen therapy is the treatment of dermal wounds after flap surgery. Multiple case reports and animal studies have been written on this issue. Prospective clinical trials are necessary to support the application of hyperbaric oxygen to improve flap survival[36].
Future aspects in the treatment of irradiated wounds
Research into new therapeutic approaches to treat radiogenic ulcers includes: Special dressings, injection of (multipotent) cells, topical administration of active substances and the use of growth factors (Table
2
).
Table 2
Current experimental strategies in the treatment of irradiated wounds
Experimental strategies

Dressings

Injection of cells

Topicals

Application of growth factors

hydrogel membranes

unirradiated fibroblasts

polyphenolic bioflavonoids

TGF-beta (1,2,3) and antisense TGF-beta oligonucleotides

bacterial cellulose

dermis-derived multipotent cells

phenylbutyrate, valproic acid, ascorbic acid

platelet-derived growth factor

silver nanoparticles

adipose-derived stem cells

tissue and microbial transglutaminases

recombinant human epidermal growth factor

skin allografts

copper tripeptide

macrophage colony stimulating factor

Thrombin receptor-activating peptide

granulocyte colony stimulating factor

basic fibroblast growth factor

vascular endothelial growth factor
Conclusion
Radiotherapy is an integral modality of head and neck cancer therapy. Compromised wound healing is an important side effect of radiation therapy. The current body of literature comprises a large number of studies investigating the molecular, cellular and clinical effects of compromised wound healing as well as current and possible future therapeutic strategies. Many of the mechanisms leading to cell injuries are still not completely understood. A better understanding of tolerance doses, improved timing of the radiation regimen, and radiation sources would allow a more focused tumor treatment. These advances have led to an improved, but not yet complete protection of healthy tissues. The clinical challenge to optimize wound healing in irradiated patients remains. The present paper critically reviews and summarizes the literature concerning the biology and possibly therapeutic strategies of radiation-induced compromise in wound healing, including stem cell injections and application of growth factors.
Authors' Affiliations
(1)
Department of Otorhinolaryngology, Division of Facial Plastic Surgery, University of Regensburg, Regensburg, Germany
(2)
Department of Radiotherapy, University of Regensburg, Regensburg, Germany
Copyright
© Haubner et al.; licensee BioMed Central Ltd. 2012
This article is published under license to BioMed Central Ltd. This is an Open Access article distributed under the terms of the Creative Commons Attribution License(http://creativecommons.org/licenses/by/2.0), which permits unrestricted use, distribution, and reproduction in any medium, provided the original work is properly cited.