A rat model of radiation injury in the mandibular area
Tonje Sønstevold

1,

Anne Christine Johannessen

2 and

Linda Stuhr

1

Email author
Radiation Oncology
2015
10:129
Received: 25 March 2015
Accepted: 28 May 2015
Published: 9 June 2015
Abstract
Background
Radiation technology focuses on delivering the radiation as precisely as possible to the tumor, nonetheless both acute and long-term damage to surrounding normal tissue may develop. Injuries to the surrounding normal tissue after radiotherapy of head and neck cancer are difficult to manage. An animal model is needed to elucidate good treatment modalities. The aim of this study was to establish a rat model where a certain radiation dose gives reproducible tissue reactions in the mandibular area corresponding to injuries obtained in humans.
Method
The left mandible of male Sprague Dawley rats was irradiated by external radiotherapy (single fraction 15 Gy, total dose 75 Gy) every second week five times. Endpoint was six weeks after last radiation treatment, and the test group was compared to non-irradiated controls. Morphological alterations of the soft tissues, bone and tooth formation, as well as alterations of salivation, vascularity and collagen content were assessed. An unpaired, non-parametric Mann–Whitney test was used to compare the statistical differences between the groups.
Results
Analysis of the soft tissues and mandible within the radiation field revealed severe unilateral alopecia and dermatitis of the skin, extensive inflammation of the submandibular gland with loss of serous secretory cells, hyperkeratinization and dense connective fiber bundles of the gingival tissue, and disturbed tooth development with necrosis of the pulp. Production of saliva and the vascularity of the soft tissues were significantly reduced. Furthermore, the collagen fibril diameter was larger and the collagen network denser compared to non-irradiated control rats.
Conclusion
We have established an animal model of radiation injury demonstrating physiological and histological changes corresponding to human radiation injuries, which can be used for future therapeutic evaluations.
Keywords
Radiation injuryHead and neck cancerAnimal modelMandibleSalivationVascularityCollagenTooth development
Background
Head and neck cancer (HNC) is a heterogeneous group of neoplasms that share a common anatomic origin. These tumors develop within the mucosa that lines the upper aerodigestive tract (squamous-cell carcinomas) or the different glands in this region (adenocarcinomas). Thus, HNC includes carcinomas of the salivary glands, oral cavity, nasal cavity, lip, pharynx and larynx [1, 2]. Treatments of HNC include surgery, radiotherapy, chemotherapy or targeted therapy, administered either alone or in combination [3].
The majority of HNC patients need radiotherapy at one point during treatment. The ionizing radiation interrupts the growth of cancerous cells by causing direct damage to the DNA and other cell components, or through the formation of free radicals. Cells exhibit different levels of radiosensitivity depending on their stage in the cell cycle at the time of radiation [4]. Tissues containing rapidly dividing cells are highly sensitive to radiation and therefore termed early-responding tissues, while tissues with slower turnover rates are less sensitive and are thus called late-responding tissues. Normal cells have a greater capacity than tumor cells to repair the radiation damage, especially at low doses [5]. This makes fractionated radiotherapy efficient in sparing normal tissue. Most patients with HNC, treated with curative intent, receive a total dose between 50 and 70 gray (Gy), where the dose is parceled into fractions, usually 2 Gy daily, five days a week over a five to seven week period [5]. Nevertheless, radiation injuries do occur in normal tissue and are commonly classified as acute, consequential or late complications. Acute effects are observed during or within a few weeks after treatment. Consequential effects are defined as persistent acute damage. Late effects are, on the other hand, typically seen after a latent period of six months or more, and may occasionally develop years after exposure to radiation [6, 7]. The late radiation injuries largely reflect damage to vascular and connective tissue, reducing vascularity and increasing fibrosis, which may finally result in cell death [6]. In its most severe form late radiation injuries of the head and neck can progress to cutaneous fistulas, trismus, pathologic fractures and osteoradionecrosis [8]. This severe form of radiation injuries are often precipitated by an additional tissue insult, such as surgery within the radiation field [9]. As it would be unethical to expose the animals to such a degree of radiation damage, a model developing the most severe forms of radiation injuries is not the scope of this study and thus not discussed in further detail.
Limiting the radiation dose and dose rate are the primary ways of preventing complications. Conventional treatment of radiation injuries in the head and neck region today involve antiseptic oral solution and better oral hygiene, anti-inflammatory drugs and parenteral antibiotics. Additional treatment can be stimulation of the residual secretory capacity of the salivary glands or the use of saliva replacements, debridement or sequestrectomy, and anesthetics and analgesics for pain relief [10]. The lack of a representative animal model for radiation injuries of the head and neck region in general has made studies on possible treatment modalities difficult. Consequently, establishing a reproducible and reliable animal model for such studies was the aim of the present study.
Materials and methods
Animals
Adult male Sprague Dawley rats (Taconic Farms, Inc, Denmark) with an average body weight of 350 g were used in this study. The rats were housed in individually ventilated cages (IVC type IV, Techniplast, Italy), fed standard pellets (RM1, Special Diets Services, Scanbur A/S, England) and had access to both food and water ad libitum. They were randomly divided in two groups: controls and test rats (15 Gy every other week five times). The rats were carefully monitored, recording skin changes, hair loss, eating ability, overall activity, clouding of eyes, wounds or infections and body weight (less than 20 % weight loss was set as acceptable). During the last period of the experiments the pellets were soaked in water to ease the eating process due to the side effects of radiation, such as dryness and soreness of the mucosal linings in the mouth. Their incisors were cut to prevent them from growing too long. The study was approved by the local ethical committee (project number 20113900), and all experiments were performed in accordance with the recommendations of the Norwegian State Commission for Laboratory Animals.
Radiation treatment
The radiation was performed under isoflurane (Isoba®vet. 100 %, Schering-Plough A/S, Denmark) and N2O inhalation anesthesia at Haukeland University Hospital, Department of Radiophysics, using a Varian Linear Accelerator, Clinac 600C/D (Reg.no. 26830).
The radiation regime was selected on the basis of preliminary studies testing single doses of 30–60 Gy targeted to the left mandible, and pilot studies testing fractionation schemes of 4 × 15 Gy, 6 × 10 Gy and 5 × 15 Gy targeted to the left mandible every other week. As a result of the pilot studies the present study employed the 5 × 15 Gy fractionation scheme, distributing 15 Gy every other week five times, cumulating to a total dose of 75 Gy. The animals were sacrificed six weeks after the final radiation treatment.
The animals were positioned on their right side, so as to irradiate the left mandible. Palpation and laser light was used as the method of locating the isocenter, which was the mandibular body between the angle process and the molars as shown in Fig.
1
. The collimator was set to a radiation field of 2.6 × 3.5 cm at a distance of 75 cm from the source. A 10 mm bolus was applied above the mandible to compensate for dose depth. The linear accelerator was set to give the specific dose of 1024 motor units (MU) equal to 15 Gy, and the rats were irradiated with 6 MV gamma rays at a dose rate of 400 MU/min. Any unwanted radiation outside the targeted mandibular area was prevented using lead blocks positioned at the edge of the radiation field, by help of polystyrene on each side of the rat and a Plexiglas on top.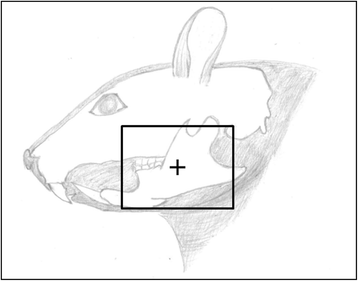 Salivation
Saliva measurements were performed under anesthesia (i.p.) with ketamine at a dose of 80 mg/kg (Ketalar, Pfizer AS, Norway) and medetomidine at a dose of 0.5 mg/kg (Domitor®vet., Orion Pharma, Finland). Saliva production was stimulated by using the parasympathomimetic agent Pilocarpine (1 μg/g BW) (Pilocarpinehydroklorid, Sigma-Aldrich Norway AS) and collected for 15 min with pre-weighed Sugi sponges on each side of the tongue from the first sign of increased salivation. The procedure was performed under a heating lamp, and the head of the rat was kept lower than its body. The salivation measure was based on the weight difference of the Sugi sponges with and without saliva absorption.
Dissection and histology
The rats were sacrificed after the saliva measurements by intracardiac injection of saturated KCl under anesthesia. The skin, muscle and submandibular gland (left) within the radiation field were gently dissected out. All soft tissue samples were either fixed in 4 % paraformaldehyde (PFA) before embedding in paraffin for subsequent histological analysis, or snap frozen in liquid nitrogen and stored at −80 °C for subsequent immunostaining. The left part of the mandible was dissected out, cleaned of detritus and cut in front of the last molar in two parts (front and back). All mandibles were fixed in 4 % PFA, for at least four hours, before they were decalcified in 10 % ethylenediaminetetraacetic acid (EDTA) solution, pH 7.4, for five weeks. The mandibles were then either dehydrated in 70 % ethanol before embedding in paraffin, or washed in 0.1 M phosphate buffer, pH 7.4, and placed in 30 % sucrose overnight and further stored at −80 °C.
The paraffin embedded tissue was sectioned in 4–5 μm sections and stained with Hematoxylin and Eosin (H&E) for tissue morphology. The frozen tissue specimens were sectioned in 10 μm sections and used for immunohistochemistry to label endothelial cells, more specifically rat platelet endothelial cell adhesion molecule-1. The frozen tissue sections were fixed in acetone for 10 min and washed in phosphate buffered saline (PBS), pH 7.4, between every step unless otherwise stated. Endogenous peroxidase activity was blocked by 30 min incubation with 0.3 % H2O2 in methanol. Unspecific binding sites were blocked by 20 min incubation with normal rabbit serum. Excess serum was tapped off and sections were incubated with primary antibody Monoclonal Mouse anti-Rat CD31, clone TLD-3A12, (MCA1334G, AbD-Serotec, Oxford, 1.0 mg/ml) diluted 1:50 in PBS with 0.3 % Triton® X-100 (PBS-TX), pH 7.4, for 60 min at room temperature. Further, sections were incubated with secondary antibody Biotinylated Polyclonal Rabbit anti-Mouse Ig G (E0464, DakoCytomation, Denmark) diluted 1:200 in PBS-TX for 30 min. The ABC Reagent (Peroxidase Rat IgG, PK-4004, Vectastain ABC-kit, Vector Laboratories, Burlingame) was applied and incubated for 30 min. Substrate-Chromogen from Dako EnVision + System-HRP (DAB+) kit (K4006, DakoCytomation, Denmark) was applied and incubation was performed until the desired stain intensity had developed. Sections were rinsed continually for approximately 10 min. Counterstaining was performed with Richardson's stain, and sections were subsequently washed in dH2O and dehydrated in increasing concentrations of ethanol (50 %, 75 %, 96 % and 100 %) and then xylol. Sections were mounted with Histokitt and cover-slipped. Specimens were examined with a light microscope (Nikon Eclipse E600, 724064, Japan) connected to a camera (Nikon Digital Sight DS-U3, 250430, Japan) and a computer screen. The IHC stained sections were analyzed manually and the average CD31 density per mm2 calculated for the control and the irradiated group (n = 5 rats).
Transmission electron microscopy
To study the difference in collagen density of irradiated versus non-irradiated skin tissue, samples from the outer part of the radiation field were prepared for transmission electron microscopy, as previously described [11]. The sections were studied by use of a transmission electron microscope (JEM-1230, Jeol, Japan) connected to a GATAN multiscan camera. The collagen fibril density was manually evaluated. Five representative images from different areas were obtained per rat (40 000X objective), and the average collagen density was calculated per μm2 (n = 5 rats) for the control and the irradiated group. The collagen fibril diameter was measured using ImageJ. The diameter was measured on approximated circle round cross-sectioned fibrils at the shortest distance across the fibril. Twenty cross-sectioned fibrils from five different areas of the skin sample were measured per rat (80 000X objective, n = 5). The fibrils were further clustered according to diameter to present the frequency distribution.
Statistics
An unpaired, non-parametric Mann–Whitney test was used to compare the statistical differences between the two groups. A value of p < 0.05 was considered statistically significant.
Results
To determine the impact of 5 × 15 Gy radiotherapy targeted to the left mandible parameters such as histology, salivation, vascular density and collagen content were analyzed in the skin, muscle, submandibular gland and mandible of the radiation field. All rats survived the radiation period of 14 weeks.
Discussion
The present study aimed to establish an animal model of radiation injuries corresponding to injuries of patients receiving radiotherapy as treatment for HNC. However, the study did not aim to produce the more severe forms of late radiation injuries. A linear accelerator was utilized, and a cumulative radiation dose of 75 Gy, fractionated in 15 Gy treatments distributed every second week five times, with a six week post-radiation period was found to induce reproducible tissue reactions in the mandibular area, similar to what is obtained in humans.
Conclusion
The present study demonstrates histological changes attributed to radiotherapy of HNC in humans. The radiation-induced tissue injury can be reproduced in a rat model by external irradiation using a cumulative total dose of 75 Gy, fractioned in 15 Gy treatments every other week five times, with a post-radiation period of six weeks. Thus, we have established a rat model of radiation injury that can be used in future therapeutic evaluation studies.
Abbreviations
EDTA:

Ethylenediaminetetraacetic acid
Gy:

Gray
H&E:

Hematoxylin and eosin
HBO:

Hyperbaric oxygen
HNC:

Head and neck cancer
MU:

Motor units
PBS:

Phosphate buffered saline
PBS-TX:

PBS with 0.3 % Trition® X-100
PFA:

Paraformaldehyde
SD:

Standard deviation
TBS:

Tris buffered saline
Declarations
Acknowledgement
This work was supported by the Western Norway Regional Health Authority (project number 911811). We thank engineer Finn Totland at Haukeland University Hospital for performing the radiation treatment, medical physicist Harald Valen at Haukeland University Hospital for calculating the specific radiation dose and apparatus setup prior to the study, Anne Karin Nyhaug at Molecular Imaging Center at the Department of Biomedicine (UiB) for preparing the paraffin and transmission electron microscopy sections and technician Gerd Signe Salvesen for her kind help.
Authors' Affiliations
(1)
Department of Biomedicine, Faculty of Medicine and Dentistry University of Bergen, Bergen, Norway
(2)
The Gade Laboratory for Pathology, Department of Clinical Medicine, Faculty of Medicine and Dentistry, University of Bergen, Bergen, Norway
Copyright
© Sønstevold et al. 2015
This is an Open Access article distributed under the terms of the Creative Commons Attribution License (http://creativecommons.org/licenses/by/4.0), which permits unrestricted use, distribution, and reproduction in any medium, provided the original work is properly credited. The Creative Commons Public Domain Dedication waiver (http://creativecommons.org/publicdomain/zero/1.0/) applies to the data made available in this article, unless otherwise stated.