State-of-the-art treatment alternatives for base of skull meningiomas: complementing and controversial indications for neurosurgery, stereotactic and robotic based radiosurgery or modern fractionated radiation techniques
Radiation Oncology
2012
7:226
Received: 26 December 2012
Accepted: 27 December 2012
Published: 29 December 2012
Abstract
For skull base meningiomas, several treatment paradigms are available: Observation with serial imaging, surgical resection, stereotactic radiosurgery, radiation therapy or some combination of both. The choice depends on several factors. In this review we evaluate different treatment options, the outcome of modern irradiation techniques as well as the clinical results available, and establish recommendations for the treatment of patients with skull-base meningiomas.
Keywords
MeningiomaSkull BasePlanning Target VolumeCavernous SinusIntensity Modulate Radiotherapy
Introduction
There is controversy regarding the optimal treatment of patients with benign tumors of the skull base such as meningiomas. Different analyses focus on local control, morbidity and mortality of treatment, treatment duration and recovery times, as well as quality of life (QOL).
Skull base anatomy is intricate, and the close proximity of tumors to vital organs at risk (OAR) influence treatment decisions. Moreover, treatment recommendations depend on the experience of the surgeon or radiation oncologist, on available technology, and, last but not least, on the patients' goals and preferences. In general, especially in the case of symptomatic lesions, treatment is mandatory for these usually benign tumors. However, in the case of an incidental finding or if clinical symptoms are mild and precise imaging characterization and definition can be obtained, observation may be chosen. This is particularly important in the elderly. In younger patients, observed patients must be followed closely because growth rates are variable. Studies show that annual growth rates are average, 1–3 mm per year. Such measurements do not reflect tumor volume changes and do not reflect changes in edema or continuing effects on brain tissue compression [1, 2]. During the observation period, it is essential to keep patients in close follow-up, including contrast-enhanced imaging and clinical-neurological assessment including hearing evaluation, to minimize the risk of neglecting rapid growth, or development of severe symptoms. In general there is no urgent need for immediate surgical or radiotherapeutic intervention. However, when tumor growth can be documented, when clinical symptoms develop or worsen, or in younger patients who want to be treated at diagnosis, treatment may be indicated.
Various surgical approaches are available, depending on the size and location of the lesion, or on patient or surgeon specific factors. Radiation based strategies have become, in selected cases, a treatment alternative for meningiomas, especially in recurrent or progressive tumors with nonresectable remnants. This has improved with the development of precise treatment techniques such as radiosurgery (SRS) or fractionated stereotactic radiotherapy (FSRT), Intensity Modulated Radiotherapy (IMRT) or particle radiotherapy.
To date, however, no formal randomized study comparing surgical resection with radiotherapy techniques has been performed. Additionally, no study has prospectively assessed patient-related outcome by patient assessment and physician-based assessment, as well as quality of QOL after treatment.
Meningioma resection has long been considered the definitive treatment. Arguments for this approach include: Immediate removal of the lesion, rapid reduction of intracranial mass effect, and possibility to perform a precise pathological diagnosis. In general, radiation therapy was reserved for malignant tumors or for recurrences. Development and improvement in radiation therapy technology has altered this paradigm, and today, treatment decisions are more individualized, depending on the literature, physician's preference and experience, as well as patient related factors. In particular, the large published experience using stereotactic radiosurgery since 1987 has altered how many think about meningiomas. When only resection or observation were available, many smaller tumors were observed, even after subtotal resection. This report provides a comprehensive review of the literature enhanced by center-specific experience in different treatment modalities leading to possible treatment algorithms for both indications.
Surgical resection
Today, microsurgical techniques and a precise preoperative imaging allow surgical procedures to be highly effective with low procedure related morbidity [3]. Extensive, combined skull base approaches, although refined over the past two decades, are less frequently used nowadays since the paradigm of "preservation of function" has gained considerably more relevance [4, 5]. Hence, the combination of more than one procedure using different approaches, each with low surgical morbidity, might be superior to one operation with disabling morbidity. Reconstruction of the sagittal sinus after "supramaximal" resection of falcine meningiomas involving this structure has been abandoned and replaced by irradiation of (progressing) remnants. Endoscopic techniques, either as a "stand alone" technique or as "endoscopic assisted microsurgery" have been introduced to subsequently lower the morbidity related to the surgical approach [6]. Altogether, the concept of functional preservation has led to a combination of surgical and radiotherapeutic techniques within the framework of a personalized therapy.
Radiosurgery and fractionated radiation therapy
Over the years, irradiation techniques have evolved from conventional opposed field techniques, to 3D-conformal, CT-based radiotherapy to even more conformal treatments, such as fractionated stereotactic radiotherapy (FSRT) or single-fraction radiosurgery. The lattter techniques offer highly precise dose application to defined target volumes, with steep dose gradients to surrounding normal tissue. The main difference between one time treatment and fractionated regimens is based on biology: With radiosurgery, the dose is applied in a single fraction. Single session delivery has the potential for a greater tumoricidal response. Safety is based on the most precise radiation delivery using a stereotactic frame with judicious dose selection. Fractionated treatments exploit intrinsic repair mechanisms to reduce side effects to normal tissue. This holds especially true for larger volumes: For radiosurgery, a clear dose-volume-relationship has been shown, with risk for treatment-related side effects increasing with treatment volume [7]. On the other hand, a dose-dependent risk profile has been reported, and, depending on size and location of the lesion, generally marginal doses between 10–14 Gy are used [8–10]. Today, radiosurgery is administered using different techniques: Either dedicated devices such as the Gamma Knife™ (GK) or robotic-based radiosurgery using the Cyberknife-Technology™. Alternatively, stereotactically guided treatments using linear accelerator (LINAC)-based stereotactically based or frameless radiosurgery treatments are available. From the clinical perspective in the case of skull base meningiomas, all approaches have the potential to create comparable dose distributions with respect to dose conformity and sparing of normal tissue, therefore leading to comparable short-term clinical outcomes [11–13]. It is important to remember however that physicians do not all use these techniques similarly. Different forms of head/target fixation, different doses, different isodoses, different dose rates, different imaging-guidance techniques, and different approaches to critical regional anatomy lead to variability between centers.
Fractionated treatments are often applied as fractionated stereotactic radiotherapy, or modern high-precision image-guided radiotherapy (IGRT) approaches allowing for significantly improved precision over older radiotherapy paradigms. For complex shaped and larger lesions, the development of Intensity Modulated Radiotherapy (IMRT) offered another degree of freedom: As such, treatments consist of a multifield techniques with intensity modulated individual beams, improving dose conformality especially to complex shapes in very close vicinity to sensitive OAR.
Particle therapy is currently emerging since more and more treatment facilities are becoming clinically active. Its use in meningioma management is limited. With protons, reduction of integral dose to the patients can be achieved due to the physical properties of the beam, an inverted dose distribution with high local dose deposition within the Bragg Peak. The depth of this peak is energy dependent, leading to conformal dose distributions and reduction of entry and exit dose. However, proton based approaches have not typically been associated with the most conformal dose plans in clinical use. Again, this is user and center dependent. Like all elements of radiation techniques, this should be improved as treatment planning software works with device hardware. With higher-LET particles, such carbon ions, additionally biological properties can be exploited: Severe radiation damage to the cell nuclei contribute to an enhanced relative biological effectiveness (RBE). However, whether photons or protons are used, energy deposition is determined by dose. For certain indications, a clinical benefit of high-LET particles has been suggested, and for high-risk meningiomas the rational has been outlined and is currently being evaluated within a prospective clinical trial [
14
]. Modern facilities use active beam application, while older clinical data has been obtained using passive beam delivery. Besides biology, carbon ion beams are associated with less beam broadening along the beam channel, resulting in slightly improved dose conformality and sparing of OAR especially with deeper seated lesions. Figure 
1
shows typical dose distributions for photon IMRT, protons and carbon ions for a patients with a skull base meningioma extending into the nasal cavity.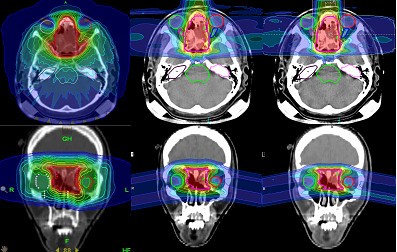 To conclusively report on clinical data of different radiation techniques, we performed a literature search in pubmed on the topic radiation therapy for the treatment of skull base meningiomas with the following key words:
(meningioma OR skull base meningiomas OR (meningiomas AND skull base)) AND (FSRT OR radiotherapy OR radiosurgery OR radiation OR IMRT OR proton) NOT case report NOT review. In total, 1237 citations were found.
We utilized the Cochrane Guidelines for the generation of review articles (http://www.Cochrane.org/resources/handbook) and chose only publications with a minimal patient number of 20 and a minimal follow-up time of 12 months to be able to better ascertain tumor control rates and late effects in addition to acute effects of treatment. Accordingly, case reports, reviews or technical reports were not included into this review.
Upon review, we excluded articles on optic nerve sheath meningiomas (ONSM), as well as cervical or non-skull-base intracranial meningiomas.
The techniques available in radiation oncology are reflected in 38 publications on FSRT, 49 publications on stereotactic radiosurgery, 68 publications on Gamma Knife or Cyberknife radiosurgery, and 3 reports on IMRT. For particle therapy, 10 articles could be found, predominantly on proton radiotherapy. Certain high-volume centers were identified for fractionated as well as radiosurgery techniques, from which several of the publications were derived. Two of the institutions with the most skull-base meningioma patients are represented as co-authors of the present review article.
Timing of resection or irradiation
Based on the clinical data provided above, the indication both for surgical resection as well as radiation therapy or radiosurgery is based on individual factors, such as patient age and comorbidities, the presence of clinical symptoms, volume and affected anatomical areas, mass effect of the lesion or compression of OAR, known growth rate, as well as the patient's preference.
Patients with aymptomatic lesions with typical imaging of a benign skull base meningioma can be offered a wait-and-scan program including thorough regular clinical-neurological and opthalmological assessment, as well as contrast-enhanced MR-imaging. However if a tumor is optimal for irradiation now, and subsequent growth would eliminate this option, then irradiation may be a good choice now for that patient. For typical cranial base meningiomas, low kinetics of growth or expansion have been observed, and they can appear as indolent lesions over long time spans [2]. Some, however, grow more rapidly. On the other hand, if the lesion is resectable, a neurosurgical intervention can be performed, if the patient prefers immediate treatment. Early radiation therapy can be discussed, however, in asymptomatic patients the minimal residual risk for side effects should be weighed against arguments for early treatment. In patients with clinical symptoms or observed significant growth, therapy should be recommended:
In some lesions, both resection and radiosurgery can be offered as equivalent treatment options in appropriately selected patients, depending on the patient's preference and the technical availabilities. This holds especially true for those lesions extending into critical regions such as the cavernous sinus, where a complete resection would only be possible with high rates of treatment-related side effects. Here, radiotherapy/radiosurgery of the tumor within the cavernous sinus is superior in terms of benefit/risk ratio. While surgical resection offers the benefit of subsequent pathological evaluation of the specimen, excluding the remaining risk of 1-2% considered as "diagnostic miss" with imaging-based diagnosis. However, with multimodal imaging including CT, MRI and PET this risk remains to be below 5%, and with DOTATOC-PET imaging which is highly specific the risk is negligible.
For symptomatic patients with mass effect or OAR compression, surgery should be performed; interdisciplinary discussion might decide on planned partial resections and subsequent wait-and-see or postoperative radiation therapy to reduce mass effect but to reduce treatment-related toxicity, such as with cavernous sinus infiltration.
Controversy exists on early postoperative radiation therapy versus a wait-and-see strategy postoperatively. Some data can be used to argue for early treatment to improve and prolong local control when compared to surgery alone, supporting the idea that prolongation of local control can be achieved especially after partial resection [35, 62]. However, radiation performed as salvage-treatment after surgery is comparably effective, and might be withheld to minimize side effects and spare patients from additional treatment that might not be necessary [18]. Ideally, at surgery one hopes to resect the entire tumor. Alternatively, combined resection followed by irradiation of any remnant, provides a planned approach for the entire tumor, using mechanical and biologic means.
In this regard histological evidence of atypical or anaplastic meningioma (WHO II/III, =10% of all meningiomas) offers different challenges. Knowledge of high-grade biology changes the treatment paradigm compared to benign lesions. This subgroup has tended to be more aggressive and has been associated with a much poorer outcome [63, 64]. Thus, postoperative radiotherapy is rather recommended for these patients. In contrast to minimized stereotactic target volume approaches in benign meningiomas the PTV for atypical and anaplastic meningiomas is enlarged to the resection cavity plus a safety margin of approx. 1–2 cm. Additionally, the benefit of postoperative radiotherapy in this subgroup is related to greater radiation doses of 60–66 Gy [65–68]. Interestingly, higher grade meningiomas are rare at the skull base and are much more common in convexity or parasagittal tumors.
In summary, several factors influence decision making in benign-skull base meningiomas. The treatment algorithm in Figure 
3
outlines recommendations for councelling patients and on selection of a possible treatment regimen.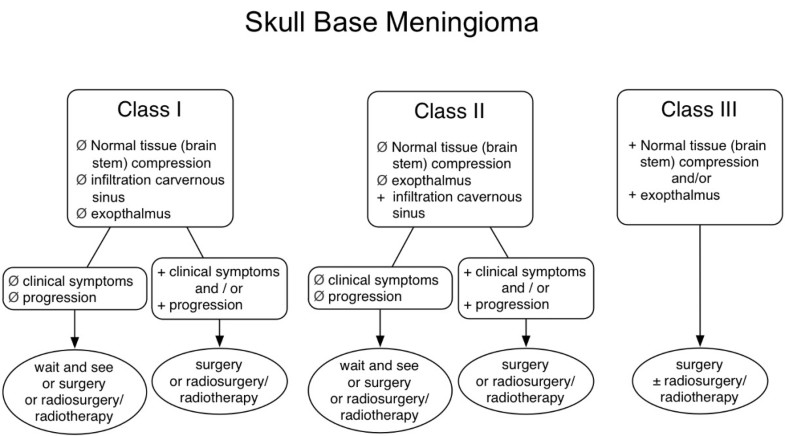 Authors' Affiliations
(1)
Department of Radiation Oncology, University Hospital of Heidelberg, Heidelberg, Germany
(2)
Department of Radiation Oncology, Mayo Clinic, Rochester, USA
(3)
Department of Neurosurgery, New York University, New York, USA
(4)
Department of Radiation Oncology, Ludwigs-Maximilians-University Munich, Munich, Germany
(5)
Department of Neurosurgery, Ludwigs-Maximilians-University Munich, Munich, Germany
Copyright
© Combs et al.; licensee BioMed Central Ltd. 2012
This article is published under license to BioMed Central Ltd. This is an Open Access article distributed under the terms of the Creative Commons Attribution License (http://creativecommons.org/licenses/by/2.0), which permits unrestricted use, distribution, and reproduction in any medium, provided the original work is properly cited.