The clinical case for proton beam therapy
Radiation Oncology
2012
7:174
Received: 30 September 2012
Accepted: 17 October 2012
Published: 22 October 2012
Abstract
Abstract
Over the past 20 years, several proton beam treatment programs have been implemented throughout the United States. Increasingly, the number of new programs under development is growing. Proton beam therapy has the potential for improving tumor control and survival through dose escalation. It also has potential for reducing harm to normal organs through dose reduction. However, proton beam therapy is more costly than conventional x-ray therapy. This increased cost may be offset by improved function, improved quality of life, and reduced costs related to treating the late effects of therapy. Clinical research opportunities are abundant to determine which patients will gain the most benefit from proton beam therapy. We review the clinical case for proton beam therapy.
Summary sentence
Proton beam therapy is a technically advanced and promising form of radiation therapy.
Keywords
Clinical review
Neoplasms
Proton beam therapy
X-ray therapy
Background
X-rays have been used to treat cancer since 1895. Advances in x-ray therapy over the years include development of linear accelerators that produce high-energy x-rays for deeper penetration. Blocking techniques were developed to contour the beam to conform to the size and shape of the tumor target. Multiple beams and angles are used to adapt the dose to the tumor and to reduce the dose to healthy organs. Advances in imaging have allowed for improved tumor delineation. Four-dimensional imaging allows measurement of motion of both tumor and normal structures during treatment. Changes in tumor size and shape during treatment can be corrected for use of adaptive radiotherapy techniques. Faster and more powerful computers allow for more accurate dose calculations and the delivery of intensity modulated x-ray beams and volumetric arc therapy. Improved patient and organ immobilization devices, along with imaging during treatment to detect patient, organ, and tumor motion (image-guided radiotherapy), enhance the accuracy of treatment delivery.
These advances were accomplished without performing conventional prospective clinical trials. The administration of concurrent radiation-sensitizing chemotherapy and biologically targeted agents has been found to improve both disease control and survival for many cancer patients.
The likelihood of tumor control through radiation therapy is related to the dose delivered to the tumor, and the likelihood of severe organ injury is related to dose to the organ and volume of the organ exposed to radiation [1]. A balance always exists between cure and risk of severe complications. The challenge in using high-energy x-rays to treat cancer is that the x-rays pass through the thickness of the body, depositing an entrance and an exit dose to healthy organs. The dose to healthy organs limits the dose that can be safely administered to the tumor. Radiation oncologists constantly strive to find the optimal balance between a high-enough dose to prevent cancer recurrence and a low-enough dose to avoid injury to healthy organs.
Proton beam therapy offers an option for obtaining that balance. Hospital- or clinic-based proton beam facilities have been in existence since 1990. Currently, 11 proton beam facilities are in operation in the United States (Figure
1
) and 26 are operational in 13 other countries (Russia, Switzerland, Sweden, England, France, South Africa, Canada, Germany, Japan, Italy, China, South Korea, and Poland) (Figure
2
). Eighteen proton beam facilities are under construction in Switzerland, Czech Republic, Austria, Italy, China, Germany, Taiwan, Russia, Slovak Republic, Sweden, and the United States.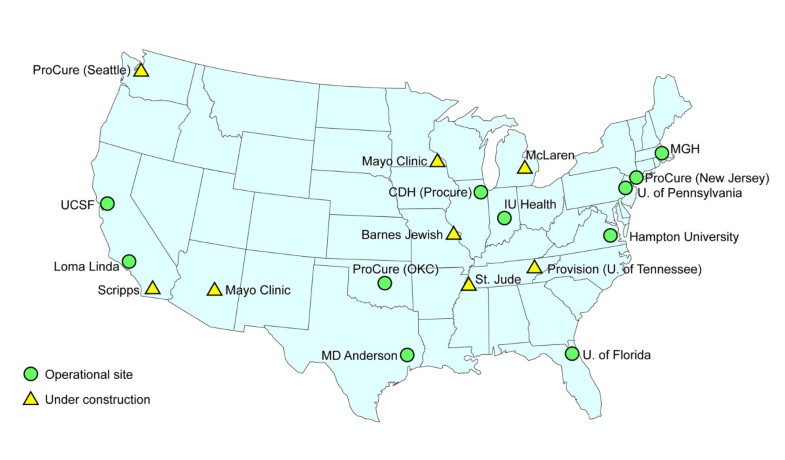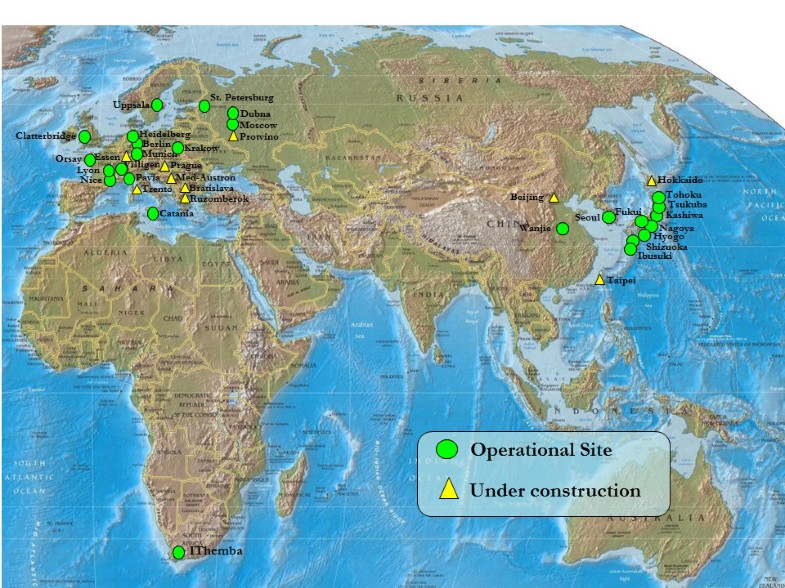 Protons are positively charged subatomic particles that are massive compared with x-rays. The biologic effects of protons and x-rays on cells are similar since both are sparsely ionizing with a relatively small linear energy transfer. However, the way protons interact with matter provides advantages compared with x-rays. As protons enter the body, they deposit a very low entrance dose. The depth of proton penetration is dependent on kinetic energy and, hence, the higher the energy, the deeper is the penetration. When the proton arrives at its target, it delivers the dose and stops, thereby eliminating an exit dose. This physical advantage serves to lower the dose to healthy organs both superficial and deep to the tumor, thus reducing the risk of injury. It also allows administration of a higher dose to the tumor, potentially reducing the recurrence rate without increasing the complication rate and leading to better organ function and quality of life. This result can lead to an avoidance of costs associated with treating recurrent tumors and damaged organs. This effect is particularly important in young children with a high likelihood of cure who are strongly susceptible to the long-term effects of x-ray therapy and in patients with cancers located adjacent to critical healthy organs, such as the eye, brain, brainstem, spinal cord, lung, heart, liver, bowel, and kidneys.
Take home points
Mayo Clinic is a national provider of health care with clinics and hospitals in Arizona, Florida, Georgia, Iowa, Minnesota, and Wisconsin caring for more than 13,000 new cancer patients annually. The most common types of cancer treated with radiation therapy at Mayo Clinic are breast cancer (15%), lung cancer (12%), prostate cancer (11%), gastrointestinal tract cancers (10%), and head and neck cancer (5%). In 2002, the Department of Radiation Oncology participated in a departmental exercise to review its status and determine its future direction. As a result of this exercise, the implementation of a charged particle therapy program became a top priority.
There is always a dilemma for large medical practices on the timing for the implementation of new technologies. Health technology assessment is the systematic evaluation of properties, effects, or other impacts of health technology. The main purpose of a health technology assessment is to inform decision making for policy decisions related to technology in health care. The assessment may address the direct and intended consequences of technologies, as well as their indirect and unintended consequences. Historically, the emphasis has been on technology assessment among hospitals, health systems, and health plans. The most common form of technology assessment has focused around pharmaceuticals through pharmacy and therapeutics committees [70]. However, in recent years the interest has been increasing in technology assessment around devices and procedures. For example, 64-slice computed tomography, positron emission tomography, da Vinci robots, health information technology systems, and telemonitoring programs have undergone technology assessments commonly. Typically, the goal of these committees is to weigh the benefits and costs and conduct analyses of return on investment of new technologies. This evaluation also allows health systems to identify priorities for investment.
We recognize the need to generate, evaluate, integrate, and manage knowledge and information related to proton beam therapy. To transform the cancer care delivery process and to be trusted and affordable through the reduction of harm and cost to patients and society, health care providers will need to define which patients benefit the most from proton beam therapy and to define outcomes (tumor control, overall survival, patient-reported function and quality of life, and cost-effectiveness) prospectively in controlled clinical trials and registries.
Abbreviations
HL:

Hodgkin lymphoma
RR:

Relative risk
SM:

Secondary malignancy
3-D:

3-dimensional
2-D:

2-dimensional.
Authors' Affiliations
(1)
Department of Radiation Oncology, Mayo Clinic, Rochester, Minnesota
(2)
Department of Ophthalmology, Mayo Clinic, Rochester, Minnesota
(3)
Department of Neurologic Surgery, Mayo Clinic, Rochester, Minnesota
(4)
Divisions of Pediatric Hematology and Oncology and Orthopedic Oncology, Mayo Clinic, Rochester, Minnesota
(5)
Division of Medical Physics, Mayo Clinic, Rochester, Minnesota
(6)
Division of Medical Oncology, Mayo Clinic, Rochester, Minnesota
(7)
Division of Oncology Research, Mayo Clinic, Rochester, Minnesota
(8)
Department of Molecular Pharmacology and Experimental Therapeutics, Mayo Clinic, Rochester, Minnesota
(9)
Department of Radiation Oncology, Mayo Clinic Hospital, Phoenix, Arizona
(10)
Department of Radiation Oncology, Mayo Clinic, Mayo Clinic, Jacksonville, Florida
(11)
Department of Radiation Oncology, Mayo Clinic, Mayo Clinic, Scottsdale, Arizona
Copyright
© Foote et al.; licensee BioMed Central Ltd. 2012
This article is published under license to BioMed Central Ltd. This is an Open Access article distributed under the terms of the Creative Commons Attribution License (http://creativecommons.org/licenses/by/2.0), which permits unrestricted use, distribution, and reproduction in any medium, provided the original work is properly cited.