Dosimetric evaluation of Acuros XB Advanced Dose Calculation algorithm in heterogeneous media
Radiation Oncology
2011
6:82
Received: 23 May 2011
Accepted: 19 July 2011
Published: 19 July 2011
Abstract
Background
A study was realised to evaluate and determine relative figures of merit of a new algorithm for photon dose calculation when applied to inhomogeneous media.
Methods
The new Acuros XB algorithm implemented in the Varian Eclipse treatment planning system was compared against a Monte Carlo method (VMC++), and the Analytical Anisotropic Algorithm (AAA). The study was carried out in virtual phantoms characterized by simple geometrical structures. An insert of different material and density was included in a phantom built of skeletal-muscle and HU = 0 (setting "A"): Normal Lung (lung, 0.198 g/cm3); Light Lung (lung, 0.035 g/cm3); Bone (bone, 1.798 g/cm3); another phantom (setting "B") was built of adipose material and including thin layers of bone (1.85 g/cm3), adipose (0.92 g/cm3), cartilage (1.4745 g/cm3), air (0.0012 g/cm3). Investigations were performed for 6 and 15 MV photon beams, and for a large (13 × 13 cm2) and a small (2.8 × 13 cm2) field.
Results
Results are provided in terms of depth dose curves, transverse profiles and Gamma analysis (3 mm/3% and 2 mm/2% distance to agreement/dose difference criteria) in planes parallel to the beam central axis; Monte Carlo simulations were assumed as reference. Acuros XB gave an average gamma agreement, with a 3 mm/3% criteria, of 100%, 86% and 100% for Normal Lung, Light Lung and Bone settings, respectively, and dose to medium calculations. The same figures were 86%, 11% and 100% for AAA, where only dose rescaled to water calculations are possible.
Conclusions
In conclusion, Acuros XB algorithm provides a valid and accurate alternative to Monte Carlo calculations for heterogeneity management.
Keywords
dose calculation algorithmAcurosAAAVMC++inhomogeneity
Background
A new photon dose calculation algorithm has recently been implemented in the Eclipse treatment planning system (Varian Medical Systems, Palo Alto, USA). This algorithm, named Acuros® XB Advanced Dose Calculation (Acuros XB in the following) belongs to the class of the Linear Boltzmann Transport Equation (LBTE) Solvers. LBTE solvers, similarly to those used in Monte Carlo methods, aim to allow for accurate modelling of dose deposition in media.
Many studies explored the accuracy of algorithms for photon dose calculation in materials different from water. In 2006 a classification was proposed dividing algorithms into "type a" and "type b" groups (Knöös et al [1]), according to management (type b) or non management (type a) of the electron transport in dose calculation. "Type b" algorithms present higher accuracy in heterogeneous media, in particular for very low density tissues [2]. The differences observed in phantom studies are partially mitigated in patients, where there is a predominance of soft tissues, more similar to water [1]; in cases with large volumes of air or low density media the differences remained largely in favour of "type b" models [3].
Many studies have also been published to compare different algorithms with Monte Carlo simulations or measurements: the Anisotropic Analytical Algorithm (AAA) was evaluated e.g. by van Esch [4], Fogliata [2], daRosa [5]. Results showed that accuracy significantly depends on energy, field size, and density of the materials. Algorithms allowing calculation of dose-to-medium lead to better agreement with Monte Carlo as already shown by Siebers [6] and confirmed by Knöös [1]. The clinical applicability of dose-to-medium calculations is limited to few systems and the new Acuros XB is included in this list. The first works on validation and evaluation of the Acuros XB algorithm were recently published by Fogliata et al[7] and Bush et al[8] showing very promising results compared to both measurements and Monte Carlo calculations.
The present report summarises a study conducted to investigate the performance and accuracy of the Acuros XB in its Eclipse implementation, when applied to materials different from water. Tests are performed in simple geometrical phantoms with inserts or layers of different materials for photon beams. Acuros XB calculations are performed using both dose-to-medium and dose-to-water options. The validation assumes, as benchmark, Voxel Monte Carlo (VMC++) simulations. To complete the comparative analysis, results are reported also for the latest version of the AAA, the "type b" algorithm currently implemented in the Eclipse TPS.
Methods
Eclipse framework and tested versions
All calculations are performed using the Eclipse planning system, with version 10 for Acuros XB and AAA, and version 8 for VMC++. The algorithm versions used are as following:
Acuros XB: clinical release 10.0.28.

AAA: clinical release 10.0.25.

VMC++: research release 8.0.1, not for clinical usage.
Some results are also reported for the Acuros XB calculations in its engineering pre-clinical version 11.0.03. Two are the main differences between the two Acuros XB versions 10 and 11. The first concerns the human material assignment, where the Air material is assigned to very low density regions in the body (Air material is not present in version 10), and the density ranges for each material are slightly overlapping (Table 1). The second improvement refers to a better re-sampling process of the structure voxels to the calculation grid, setting the density and material of the structure to the calculation voxel when at least half of the calculation voxel volume belongs to the structure.
All calculations, are performed with a grid size of 1.25 mm. The grid, in addition to the smoothing process used in the VMC++ calculations might lead to some unavoidable smoother dose profiles.
The phantoms and the beams
All studies are performed on a set of virtual phantoms.
Figure
1
shows a schematic representation of the phantoms which are characterized as follows [
2
]: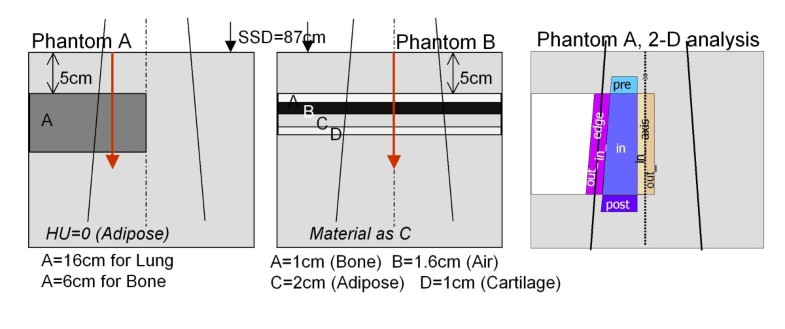 Phantom A) An insert, covering laterally only half of the entire phantom and positioned at 5 cm depth in a large phantom of HU = 0 ('Muscle Skeletal' as automatic assignment) is simulated for three different materials and thicknesses:
Normal Lung: 0.198 g/cm3, HU = -780, lung tissue, 16 cm thick.

Light Lung: 0.035 g/cm3, HU = -942, lung tissue, 16 cm thick.

Bone: 1.798 g/cm3, HU = 1380, bone tissue, 6 cm thick.
Phantom B) Four thin layers of different materials (
Heter1
), starting at 5 cm depth are included in a large phantom of the same density and composition as insert C (Adipose):
Layer A: 1.4751 g/cm3, HU = 763, bone tissue, 1 cm thick

Layer B: 0.0012 g/cm3, HU = -993, air, 1.6 cm thick

Layer C: 0.92 g/cm3, HU = -122, adipose tissue, 2 cm thick

Layer D: 1.4745 g/cm3, HU = 762, cartilage tissue, 1 cm thick.
Notice that layers A and D differ for only one HU, but have different material assignment (bone or cartilage), presenting different elemental composition, especially in terms of Calcium content.
Source to phantom distance SSD is set to 87 cm, gantry and collimator to 0 degree. Doses are normalised to 3 cm depth on the beam central axis. For all phantoms calculations are performed for the following settings:
field sizes: 2.8 × 13 cm2, small field, SF, (the long axis crossed the heterogeneity boundary), and 13 × 13 cm2, large field, LF.

beam energies: 6 and 15 MV from a Varian Clinac 2100 iX, presenting TPR20/10 of 0.672 and 0.761 respectively (6X and 15X in the following).
For all cases, calculations are performed for Acuros XB and VMC++ as: i) dose to water, ii) dose to medium and iii) dose rescaled to water. This last modality is defined with a manual assignment to water material for all phantom structures, outline and inserts, with specific HU according to each phantom setting; CT ranges to corresponding materials and compositions are modified accordingly also for VMC++ calculations. For AAA, only the dose rescaled to water option is available.
The analysis
1-D analysis: DD and profiles
Data are reported for calculations along the directions shown by the arrows in figure 1, i.e. depth dose curves (DD) at -4 cm off-axis parallel to the beam central axis for phantom A, and on the beam central axis for phantom B.
Horizontal transverse profiles are calculated at the depth of mid-thickness of the inhomogeneities for phantom A to evaluate the lateral interface.
2-D analysis: Gamma evaluation
2-D dose distributions in the vertical transversal plane through the isocentre, crossing the longest field jaw setting are evaluated. Gamma of Low analysis [
33
] is performed, using different threshold criteria: distance to agreement DTA = 2 mm and 3 mm, dose difference ΔD = 2%, 3%; all calculations are performed as global gamma indexes, i.e. relative to the dose at 3 cm depth on the beam central axis. VMC++ calculations are assumed as reference. Each planar dose from phantom A is divided into various sectors as depicted in figure
1
:
pre: before the inhomogeneity, from 3 cm depth, with 1.5 cm internal margin from the field edge on the left and the beam central axis on the right

in: inside the inhomogeneity, with the same lateral margins of 1.5 cm

post: after the inhomogeneity for a depth of 2 cm.

edge: along the inhomogeneity, across the field edge, 1.5 cm inside and 1.5 cm outside the border

edge_in: the edge sector only inside the field

edge_out: the edge sector only outside the field

axis: across the beam central axis (and also inhomogeneity), 1.5 cm inside and 1.5 cm outside the inhomogeneity

axis_in: the axis sector only inside the inhomogeneity

axis_out: the axis sector only outside the inhomogeneity
Gamma evaluation is recorded as Gamma Agreement Index, GAI, defined as the percentage of the pixels fulfilling the criteria inside each sector.
For phantom B the following regions, included in the field, are analysed:
pre: before the first inhomogeneity, from 3 to 5 cm depth

bone: inside the bone layer of 1 cm

air: inside the air layer of 1.6 cm

adipose: inside the adipose layer of 2 cm

cartilage: inside the cartilage layer of 1 cm

post: after the last inhomogeneity layer, for 2 cm depth.
Conclusions
The new Acuros XB photon dose calculation engine is tested for accuracy against Monte Carlo simulations in phantoms with simple geometrical heterogeneities in its clinical version 10. The comparison is extended also to the widely used AAA algorithm. Good agreement between Acuros XB and Monte Carlo is shown, even in extreme cases of materials of very low density and for low energy and small fields. Some differences between different algorithms are pointed out at interfaces between different materials. In those cases, Acuros XB and VMC++ present differences mainly in the rebuildup region. The agreement in this region improves with the newer version 11 of the Acuros XB algorithm.
In general, results suggest that the Acuros XB algorithm is mature for clinical implementation and can provide a valid and accurate alternative to Monte Carlo calculations.
Declarations
Acknowledgements
The authors thank the whole Varian Medical System group in Helsinki, Finland, especially Pekka Uusitalo, Tuomas Torsti, Laura Korhonen, Viljo Petaja and Stephen Thompson for the fruitful discussions arising during the evaluation and testing phase of the Acuros XB through its various developing versions.
Authors' Affiliations
(1)
Medical Physics Unit, Oncology Institute of Southern Switzerland, Bellinzona, Switzerland
Copyright
© Fogliata et al; licensee BioMed Central Ltd. 2011
This article is published under license to BioMed Central Ltd. This is an Open Access article distributed under the terms of the Creative Commons Attribution License (http://creativecommons.org/licenses/by/2.0), which permits unrestricted use, distribution, and reproduction in any medium, provided the original work is properly cited.