Antiangiogenic agents in the treatment of recurrent or newly diagnosed glioblastoma: Analysis of single-agent and combined modality approaches
Radiation Oncology
2011
6:2
Received: 25 October 2010
Accepted: 7 January 2011
Published: 7 January 2011
Abstract
Surgical resection followed by radiotherapy and temozolomide in newly diagnosed glioblastoma can prolong survival, but it is not curative. For patients with disease progression after frontline therapy, there is no standard of care, although further surgery, chemotherapy, and radiotherapy may be used. Antiangiogenic therapies may be appropriate for treating glioblastomas because angiogenesis is critical to tumor growth. In a large, noncomparative phase II trial, bevacizumab was evaluated alone and with irinotecan in patients with recurrent glioblastoma; combination treatment was associated with an estimated 6-month progression-free survival (PFS) rate of 50.3%, a median overall survival of 8.9 months, and a response rate of 37.8%. Single-agent bevacizumab also exceeded the predetermined threshold of activity for salvage chemotherapy (6-month PFS rate, 15%), achieving a 6-month PFS rate of 42.6% (p < 0.0001). On the basis of these results and those from another phase II trial, the US Food and Drug Administration granted accelerated approval of single-agent bevacizumab for the treatment of glioblastoma that has progressed following prior therapy. Potential antiangiogenic agents-such as cilengitide and XL184-also show evidence of single-agent activity in recurrent glioblastoma. Moreover, the use of antiangiogenic agents with radiation at disease progression may improve the therapeutic ratio of single-modality approaches. Overall, these agents appear to be well tolerated, with adverse event profiles similar to those reported in studies of other solid tumors. Further research is needed to determine the role of antiangiogenic therapy in frontline treatment and to identify the optimal schedule and partnering agents for use in combination therapy.
Keywords
Vascular Endothelial Growth Factor
Overall Survival
Bevacizumab
Irinotecan
Temozolomide
Introduction
The incidence rates of primary malignant brain and central nervous system (CNS) cancers have increased over the last 3 decades [1], reaching an estimated rate of 6.8 new cases per 100,000 persons in the United States [2]. Glioblastoma is the most common primary malignant brain tumor and accounts for the majority of diagnoses. On the basis of data collected between 1995 and 2006, glioblastoma has been associated with a particularly poor prognosis, with survival rates at 1 and 5 years equaling 33.7% and 4.5%, respectively [3]. The current standard of care for patients with newly diagnosed glioblastoma is surgical resection followed by fractionated external beam radiotherapy and systemic temozolomide [4], as supported by data from a randomized phase III trial, which demonstrated a significant improvement with the addition of temozolomide to radiotherapy in median overall survival (OS) from 12.1 months to 14.6 months [5]. Although this treatment can prolong survival, it is not curative. The vast majority of patients with glioblastoma experience recurrent disease, with a median time to recurrence of 7 months [6].
Currently, there is no standard treatment for patients with recurrent glioblastoma, although additional surgery, chemotherapy, and radiotherapy are used. An analysis of data from phase II clinical trials showed the limitations of conventional chemotherapy regimens, which were associated with a 6-month progression-free survival (PFS) rate of 15% and a median OS of 25 weeks in patients with recurrent disease [7]. More recent trials of single-agent temozolomide or irinotecan, also known as CPT-11, have demonstrated only slight increases in 6-month PFS, with the highest rate being 26% [8–10]. Recommended chemotherapeutic options for recurrent glioblastoma include temozolomide, nitrosourea, cyclophosphamide, platinum-based combination regimens, and procarbazine, lomustine, and vincristine combination therapy [4]. Moreover, in May 2009, the US Food and Drug Administration (FDA) granted accelerated approval of single-agent bevacizumab for the treatment of patients with glioblastoma that has progressed following prior therapy [11]. The National Comprehensive Cancer Network (NCCN) guidelines have subsequently been amended to include a recommendation for the use of bevacizumab, with or without chemotherapy (i.e., irinotecan, bischloroethylnitrosourea, or temozolomide), for progressive glioblastoma [4]. Enrollment in a clinical trial is considered standard practice at recurrence.
Bevacizumab is a humanized monoclonal antibody that targets vascular endothelial growth factor (VEGF), an important mediator of angiogenesis that is essential for the tumorigenesis of glioblastoma. Antiangiogenic therapies may arrest tumor growth by mediating the regression of existing tumor vasculature and preventing regrowth over time [
12
,
13
]. As a result, bevacizumab and other antiangiogenic agents, including cediranib (AZD2171), aflibercept (VEGF Trap), XL184 and cilengitide (EMD 121974), are being evaluated for use in recurrent and newly diagnosed glioblastoma (Figure
1
). This article reviews the available data from clinical trials of antiangiogenic agents in glioblastoma, either as single agents or in combination with chemotherapy and/or radiotherapy.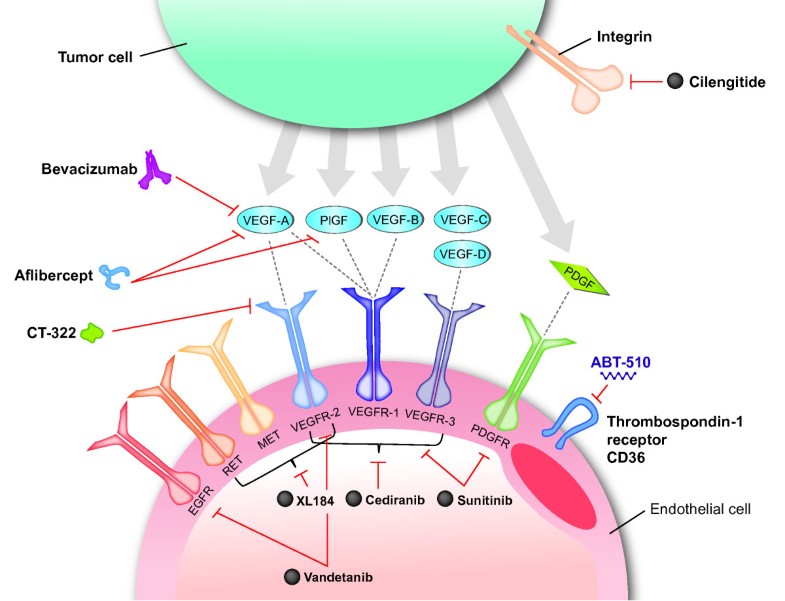 Rationale For Using Antiangiogenic Therapies In The Treatment Of Glioblastoma
Glioblastomas are associated with a high degree of microvascular proliferation, and the extent of proliferation correlates with an increased risk of recurrence and poor survival [14]. VEGF-A (also known as "VEGF") is one of the most well-studied and potent vascular permeability factors, with an established role in pathologic angiogenesis [15]. Studies evaluating VEGF levels in plasma and tumor fluid from patients have shown that glioblastomas express relatively high levels of VEGF [16, 17], and mean intracavitary levels of VEGF are significantly increased in patients with recurrent glioblastoma relative to those with nonrecurrent disease [16]. Moreover, there is a direct correlation between VEGF overexpression and poor prognosis in this tumor histology [18].
Preclinical studies have provided evidence that the inhibition of the VEGF ligand can modulate tumor vasculature. In a study using neuroblastoma xenografts, Dickson and colleagues demonstrated that treatment with bevacizumab led to reductions in microvessel density and improvement in the function of intratumoral blood vessels (Figure
2
), facilitating the penetration of subsequent chemotherapy [
19
]. In another glioblastoma model, bevacizumab suppressed both the proangiogenic effects of stem cell-like glioma cells (SCLGCs)
in vitro
and the growth of SCLGC-derived glioblastoma xenografts
in vivo
[
20
]. Data also suggest an association between other proangiogenic factors, such as the angiopoietins, neuropilin-1, and delta-like ligands, and the survival and/or proliferation of tumor cells [
21
–
23
]. Collectively, these results highlight the importance of VEGF and the related signal transduction pathways as therapeutic targets in glioblastoma and provide the rationale for evaluating antiangiogenic agents in clinical trials.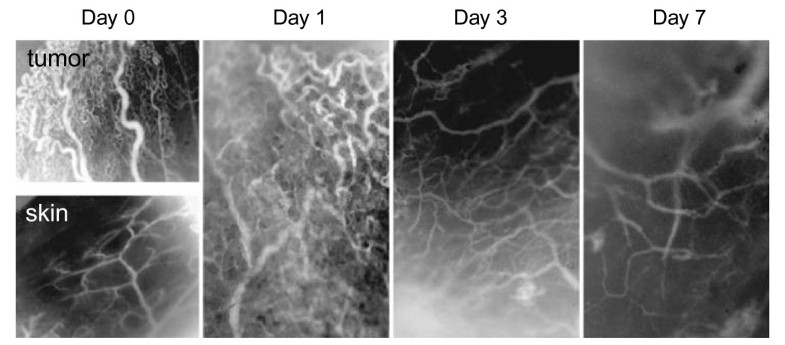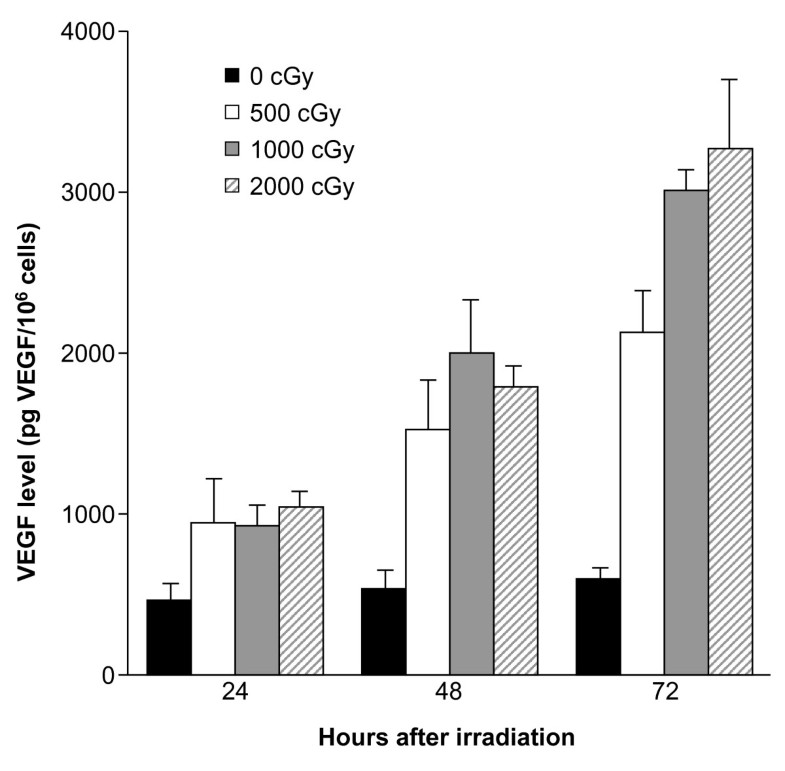 Clinical Experience With Antiangiogenic Agents In Glioblastoma
Summary and Conclusions
Despite advances in treatment, glioblastoma has no cure, and patients with glioblastoma have poor long-term survival. Increased understanding of the tumorigenesis of this disease at the molecular level has led to the identification of VEGF and its related pathways as targets for therapy. As a result, a number of antiangiogenic therapies have been or are currently being evaluated in patients with glioblastoma, alone or in combination with chemotherapy and/or radiotherapy. The most well-established antiangiogenic therapy is bevacizumab; current experience encompasses clinical data from more than 1000 patients treated for glioblastoma. In May 2009, single-agent bevacizumab was approved by the FDA for the treatment of patients with progressive glioblastoma following prior therapy on the basis of an improvement in objective response rate. The BRAIN study that supported this approval also showed a significant improvement in 6-month PFS rate with bevacizumab alone and in combination with irinotecan relative to historical controls [31]. At present, the NCCN guidelines include a recommendation for bevacizumab either with or without chemotherapy as a treatment option for recurrent glioblastoma [4]. The safety and efficacy of cilengitide with chemotherapy has not been reported in the recurrent setting, but single-agent data suggest that combinatorial trials are warranted.
Clinical studies have also demonstrated the feasibility of combining bevacizumab or cilengitide plus radiation with or without concomitant temozolomide for the treatment of patients with newly diagnosed or recurrent glioblastoma. Early data suggest the possibility of novel regimens that improve tumor response without overlapping toxicities, but these findings are preliminary. The incorporation of antiangiogenic agents in frontline therapy, therefore, cannot be recommended at present, except in the context of a clinical trial.
Although the safety and efficacy of combining antiangiogenic agents with chemotherapy has been documented in the recurrent setting, the ideal chemotherapy partner has yet to be identified by prospective, randomized trials. The difficulty of comparing data across trials prohibits any definitive conclusions, and the efficacy signals to date do not provide a clear indication as to which chemotherapy agents or treatment schedules are optimal. Moreover, the scheduling, timing, and dosing of antiangiogenic agents relative to chemotherapy also remains to be defined, and should be a focus of future studies. As the field progresses toward patient-specific approaches, gene expression studies and other correlative analyses are needed to assess the safety and efficacy of antiangiogenic therapies on the basis of the molecular pathophysiology of the disease. Data obtained from ongoing studies should enable clinicians to further optimize treatment for both newly diagnosed and recurrent glioblastoma (Additional file 1, Table S1). Additional information can be found at http://www.ro-journal.com. Alternate treatment strategies for patients with glioblastoma may include the use of an antiangiogenic agent with other targeted agents, such as erlotinib, dasatinib, or cetuximab [110, 111]. More research is also needed to establish the most advantageous sequencing for individual components of combination regimens containing antiangiogenic therapies. Antiangiogenic agents are expected to play a significant role in the treatment of glioblastoma in the future, and it is hoped that the consideration of molecular profiling will further improve target selection.
Declarations
Acknowledgements
Support for third-party writing assistance for this manuscript, furnished by Glen Miller and Denise Chun, was provided by Genentech, Inc.
Authors' Affiliations
(1)
Department of Radiation Oncology, Memorial Sloan-Kettering Cancer Center, New York, USA
(2)
Department of Neurology, Memorial Sloan-Kettering Cancer Center, New York, USA
(3)
Department of Neurosurgery, Memorial Sloan-Kettering Cancer Center, New York, USA
Copyright
© Beal et al; licensee BioMed Central Ltd. 2011
This article is published under license to BioMed Central Ltd. This is an Open Access article distributed under the terms of the Creative Commons Attribution License (http://creativecommons.org/licenses/by/2.0), which permits unrestricted use, distribution, and reproduction in any medium, provided the original work is properly cited.